Primer A clear acrylic sealer designed to penetrate and bind oxidised/powdery substrates prior to top coating.
Deo prime A clear acrylic sealer with added adhesion protection designed for previously painted substrates where there is residual paint left on the substrate, this will hold down any loose edges.
Maxi Build A high solids sealer to help seal severely porous and pitted tiles prior to top coating. This product is to be used first when there is no residual colour left on the tile.
Premcoat A 100% pure acrylic gloss membrane designed to resurface and protect concrete roof tiles and metal roof surfaces.
Premcoat Plus A 100% pure acrylic high gloss coating used as a finishing coat only using latest technology emulsions to resist dirt pick up and pollution yielding superior results for a longer lasting finish.
Premcoat Metal Primer A Pure acrylic blend formulated with anti-corrosion properties, rust inhibitors and added adhesion properties, this is perfect for use as a sealer on metal roof surfaces where there is surface rust across the substrate, resisting bleed through on top coats.
Clear Coat A 100% pure acrylic coating specifically formulated for semi-glazed or unglazed terracotta tiles with superior dirt pick up resistance and pollution resistance will give a beautiful natural shine to terracotta tiles.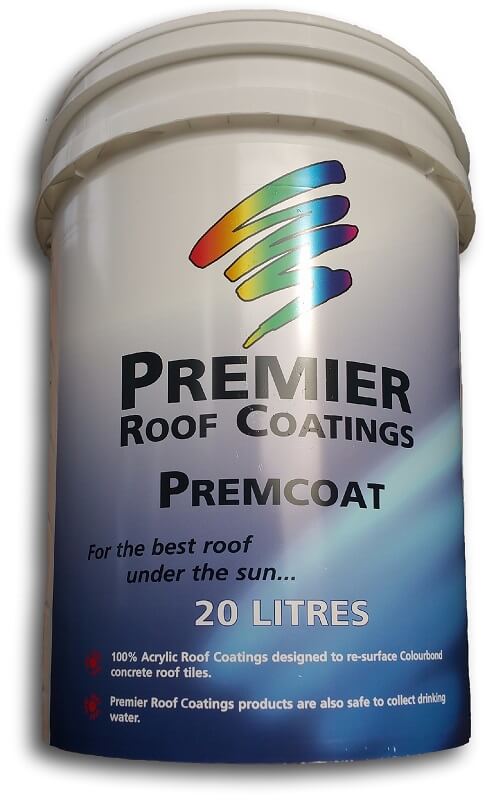 Premier roof coatings gives a full 10 year replacement of product warranty after the proof of purchase date on any defective roof where our products have been used correctly. This warranty guarantees against flaking, peeling or cracking. This also guarantees against excessive fading over this period and is only valid when products have been applied by a professional roofing contractor.
This warranty is void if there is product failure due to poor preparation.
Other Roofing Products and Equipment available
Premflex (flexible pointing compound)

Ampelite Roof ventilators and roomlites

Airless spray equipment and parts

Cement and terracotta roof tiles

Cement and oxides

Liquid chlorine and anti fungal agents/biocides